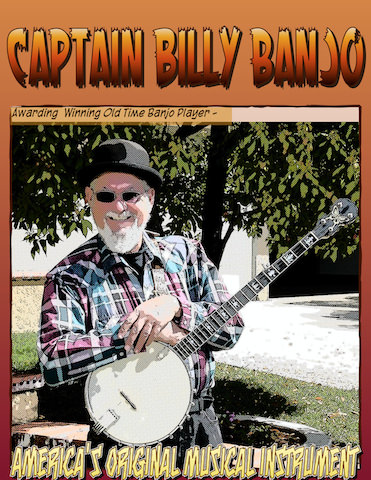 Here is some plain playing, just the way it would sound if you were sitting out on Captain Billy's front porch watching the leaves change colors. The styles are 2 finger picking and frailing with a bit of clawhammer - what we call old timey style.
Hard Ain't It Hard - Frailing Style
Ground Hog - 2 Finger Style
East Tennessee Blues - Frailing Style
Rosin the Beau - Frailing Style
Doreset Forehand Reel - Frailing Style
Red Wing - Frailing Style
Here is a free booklet from Captain Billy with advice & information on the 5 string banjo. Remember you get what you pay for!

http://www.theater-16.com/
You can use the menu at the top of the page to continuing exploring. To return to the Captain Billy page - CLICK HERE