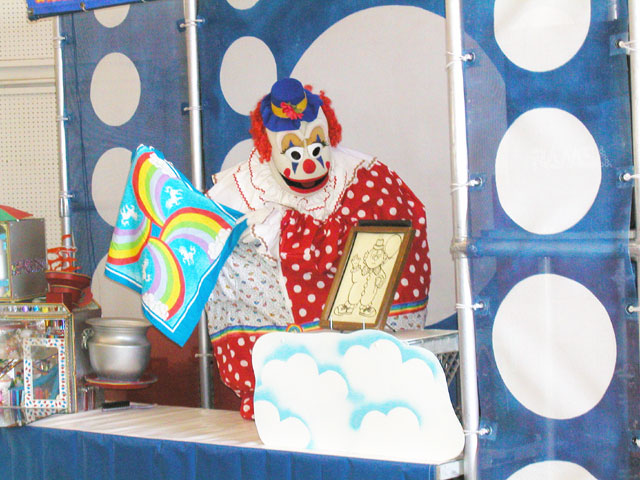 Let's use all my magic and all your laughter to help us make a rainbow.
Rainbo the Clown
Click on a picture to enlarge
The Rainbo Magic Show


At last, a magic show especially for younger children to enjoy with their families. This richly entertaining piece of children's theater blends the skills of puppetry, magic and clowning into a delightful show the whole family will enjoy. The story tells how Rainbo, a miniature puppet clown, uses his great magical powers to make a rainbow. There are magic tricks galore specially selected to appeal to younger audiences. Magic keys get lost, pictures magically fill with color and rabbits fly invisibly through the air. There is laughter and mystery for all.

The Rainbo Magic Show has appeared at major fairs, theme parks and special events all across North America, and delighted tens of thousands of people with shows at: Knott's Berry Farm - Six Flags Magic Mountain - Calgary Stampede - Los Angeles County Fair - just to name a few. The production uses custom magic tricks and an original music score and voice track to maintain the energy level that today's children's audiences enjoy. The Rainbo Magic Show can transform any area into a special family entertainment area, and can be presented in English or Spanish.

Consider this:
The show is unique, unlike any other magic show.
The show comes complete with a high quality sound system.
The colorful set works well in a variety of locations.
The show's length is an entertaining 30 minutes.
Minimal electrical requirements.

Currently the show is produced in the FairTime Theater™, and can be part of a larger package of entertainment or a solo attraction. This performance is set to a pre recorded original sound track and is available in English and Spanish. There are videos and promotional material in both languages.

http://www.theater-16.com/
Here are two versions of the Rainbo Magic Show video. They are the same except for the sound tracks, one in English and the other in Spanish. The show has been modernized and improved over the years, but this video gives you a good idea of the production concept.
Click on the play button below to view the video which runs 2 1/2 minutes.
(Time well spent!)