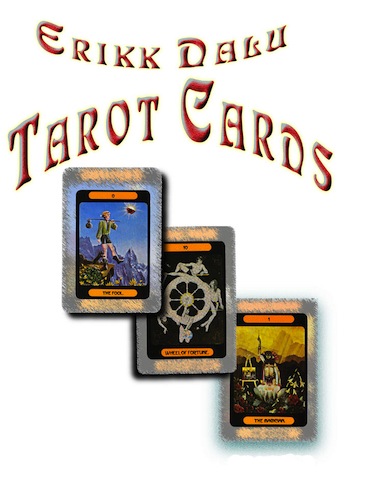 I am the last living student of Dr. Stephen Holler's three card major arcana spread, a technique developed especially for corporate clients.
Erkk Dalu
Click on a picture to enlarge
Tarot Card Readings by Erikk Dalu 


People throughout the ages have sought guidance from sources beyond their everyday experiences. Whether consulting the stars in the heavens, the lines in the palm of a hand, or the shapes in a crystal ball; interpretations always must be made by a gifted spirit....Erikk reads Tarot.

The Tarot offers a pictorial key to understanding basic situations in everyone's life. With thirty years of experience Erikk synthesized a system perfect for today's needs. His Tarot readings for private parties, corporate events, and special promotions are always popular! Erikk emphasizes the positive aspects of current situations and ways in which the clients control their own destiny. With his time-tested method involving three cards and using the Major Arcana exclusively, Erikk achieves maximum involvement with the greatest number of participants in the time allotted. His method has been heralded by his associates as a breakthrough in contemporary technique. As Erikk observes: "Most people don't really want to know their future, but they would like a clue to the present!"
The program is specially designed for corporate functions, private parties and lectures. The presentation is an amusement, not fortune telling...or is it...?

http://www.theater-16.com/