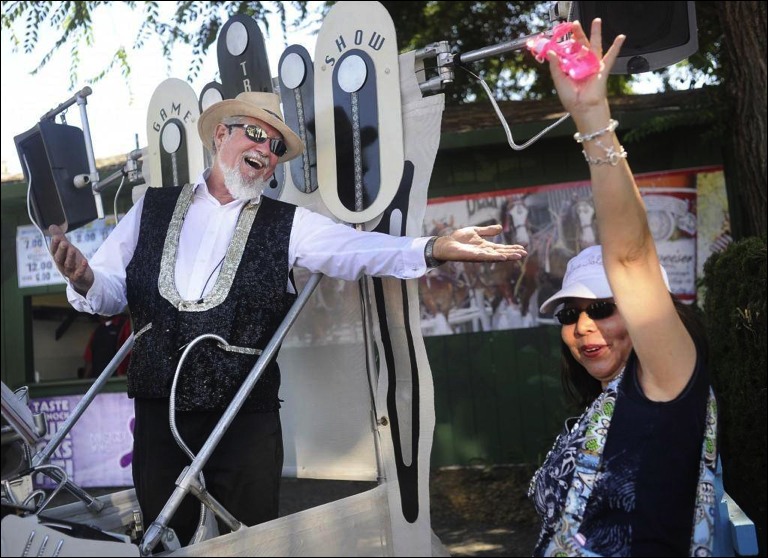 The show where it's smart to be smart, and you can win…valuable prizes!
Mr. Traveling Game Show
Click on a picture to enlarge
Traveling Game Show


The most unique grounds entertainment you have ever seen. When this attraction makes its grand entrance, nobody misses it! From built in sound systems, flashy banners, special effects and prizes, to the energetic game show host; this is a great crowd pleaser. Everyone loves to win, and with the Traveling Game Show™ everybody has a chance to be a winner! How do you play? It's easy! The first person to call out the correct answer loudly enough for the host to hear is in the running for VALUABLE PRIZES!

The Traveling Game Show has thrilled families across the United States and Canada. Everyone loves to have a good time, play games and win prizes. Put them all together and you have a real winner. This free comedy game show is enjoyed by all ages and is as much fun to watch as it is to play.

We can prepare special questions and prizes to promote your sponsors; just ask for details.
Take a look at the pictures above, download further information by using the buttons, or watch the classic video below.

http://www.theater-16.com/
This video is being hosted on YouTube and is from the last century. Although the Traveling Game Show in the video is an older design, you will get a good idea of how the game is played and its effectiveness on the midway. Most of the pictures in the gallery above show the Art Deco black & white design of the newest Traveling Game Show.
Click on the play button below to view the video which runs 2 minutes. (Time well spent!)