Leroy & Lee's Circus of Fleas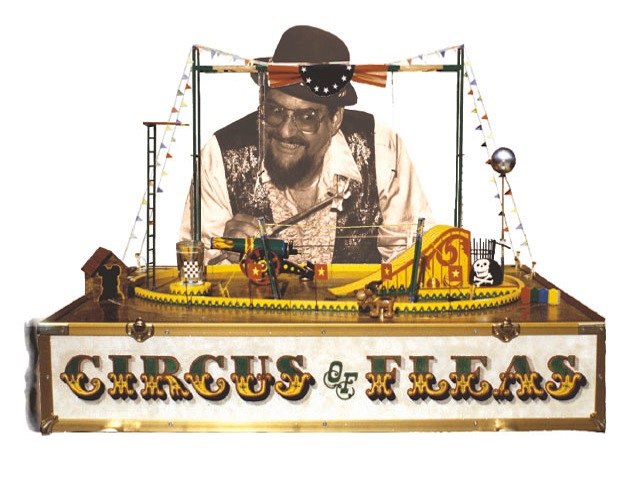 Old fashioned entertainment from the biggest little show on earth!
Proff. Leroy
Click on a picture to enlarge
Leroy & Lee's Circus of Fleas


Nothing is more exciting than the circus, and when that circus is performed by insects almost too small to be seen, the crowds are itching to watch. This production features a beautiful, one of a kind, old-time circus; in miniature. Bring back the golden days of variety entertainment with a traditional comedy flea circus. The show is a self contained attraction, complete with sound system, riser platform, old fashioned flea circus banners and offers a stunning visual attraction for your event. Leroy & Lee's Circus of Fleas was even featured in the award wining French documentary, The Flea Zone.

Theater-16 is proud to have assembled this most magnificent micro-menagerie of mini-stars, made possible by turn of the century wizardry. Here are a few of the featured acts:

Trapeze artistry in thin air done by the "Flying Fleazeenies".
Feats of strength performed by "Arnold Schwartzenflea".
That master of micro magic and mystery, "Hairy Fleadini".

Spectacular circus acts and audience participation; who could ask for more? It's a show the whole family will be itching to see. Looking for sponsorship dollars? We have ideas your marketing department will love. Looking to generate public interest in your event? Tell them you have fleas! Watch the flea circus video (2 minutes), and download further information.

http://www.theater-16.com/
This video is being hosted on YouTube and is from the last century when I still had brown hair. It is a mixture of footage that will give you a good idea of the visual impact of this attraction.
Click on the play button below to view the video which runs about 3 and a half minutes (Time well spent!)