The Walking Puppet Stage™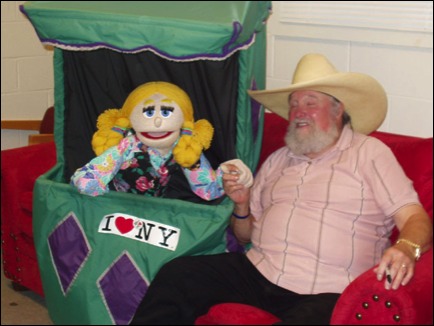 What can I tell you about the Walking Puppet Stage except this… she can keep a secret!
Click on a picture to enlarge



Walking Puppet Stage™


Without a doubt, the Walking Puppet Stage™ is one of the most effective Grounds Acts appearing at fairs, festivals, trade shows and promotional events. Created specifically to fill the need for a multifaceted strolling attraction in amusement parks, the Walking Puppet Stage™ appeals to all ages, attracts crowds to slow areas and helps promote your event.
The stage can go anywhere a real person can go!
Fits through standard doorways, goes up escalators and in elevators.
Needs no electrical or technical support to perform.
Can create a show anywhere!
Has high visual impact, flexibility, and convenience.
As entertaining to adults as to children.
Great for marketing promotions and sponsorships.
The success of this act is in the way it delights audiences with its one-on-one spontaneous performances. Over the past 30 years we have appeared in an unbelievable variety of venues. The Walking Puppet Stage™ is a wonderful addition to your event. From the 1984 Los Angeles Olympics to Watermouth Castle in the U.K., whether performing as family entertainment or as the spokesperson for Levi-Strauss at sales conventions in New York; this is an act that is sure to please. Use your imagination.

Watch the Walking Puppet Stage video (2:07 min.), take a look at the Walking Puppet Stage photos above, and download further information by using the button below.


http://www.theater-16.com/
The video below was edited from footage taken at the Orange County Fair in Costa Mesa, California. It will give you a good example of an excellent strolling act. This video on is hosted on YouTube.