EyeVentures - Optical Illusion Show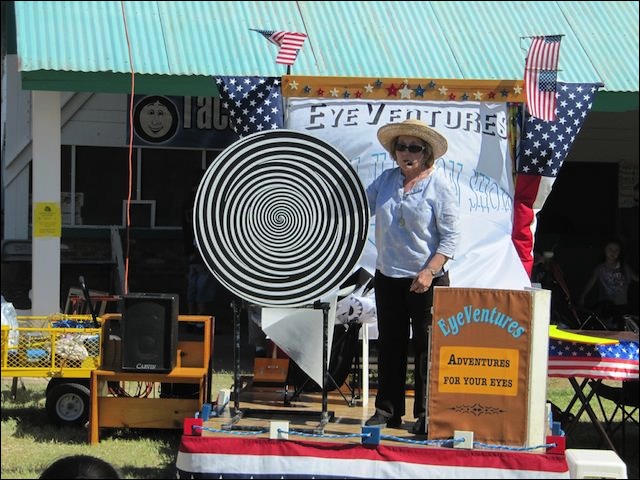 Everyone is fascinated by optical illusions. My show is like candy for the eyes and a roller coaster for the mind!
Mary Lee Dalu
Click on a picture to enlarge
EyeVentures


When you present a variety of optical oddities that lets the audience experience the mystery of human perception, you give the whole family a show they will be talking about for a long time to come. Optical Illusions fascinate everyone, and this act is certain to catch their eye and take their senses for a ride!

EyeVentures features a variety of large illustrated optical oddities arranged into groupings to make the show educational as well as entertaining. Designed for quieter areas where the audience can enjoy what they see, the show can be presented as a found space act, as a self contained act on its own Wagon Stage, or presented in your performance area. This is a unique show, probably unlike any you have ever seen. See for yourself. Watch the EyeVentures video, and check out the photos above. Take your eyes for a ride!
This video is being hosted on YouTube and was compiled from still photos for a video showcase for the Western Fairs Association Convention.
Click on the play button below to view the video which runs 90 seconds. (Time well spent!)