Dr. Goodjohn's Medicine Show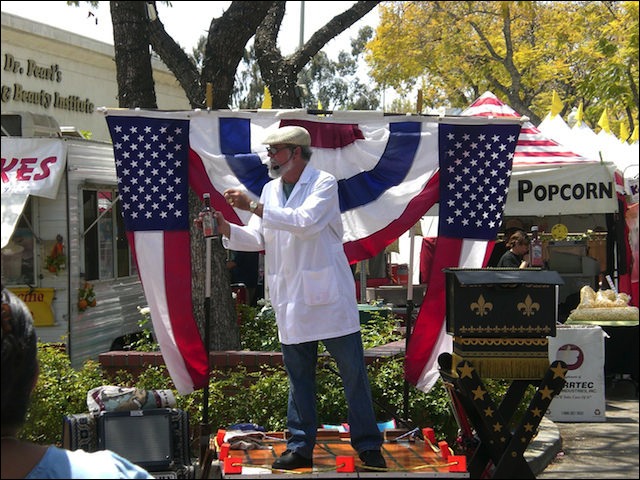 Dr. Goodjohn's Magical Medicine Show is guaranteed to make you laugh, and laughter is the best medicine!
Dr. Goodjohn
Click on a picture to enlarge
Doctor Goodjohn's Magical Medicine Show


Throughout America's past, in small towns across the country, Medicine Men gathered crowds of local citizens with fancy speeches, amazing demonstrations and flim flam, in order to sell their "patent medicine". It was assumed all those great performances were lost forever... Well, modern health fans, you can breathe a sigh of relief because Doctor Goodjohn, the world's leading expert on everything medical, will be sharing his knowledge with the public. (As soon as his parole is up!)

Dr. Goodjohn is one of the most experienced entertainers you could ever hope to meet. He has performed at Disneyland, Knott's Berry Farm, Six Flags Magic Mountain, at the Calgary Stampede, California State Fair, Edmonton Klondike Days and hundreds of other fairs and festivals. Magic, storytelling and amazing demonstrations are always ready in his bag of tricks. The good doctor is equally at home strolling, on stage, and as a self contained attraction with his own wagon stage. He also makes a great Master of Ceremonies. The doctor is "in", are you ready to see him?
Take a look at the pictures above, download further information by using the button, and watch the classic video below.

http://www.theater-16.com/
This video is hosted on YouTube and is from the last century when I still had brown hair. The medicine box has changed and the jokes updated, but you will get a good idea of the spirit of the show and… what I'm selling.
Click on the play button below to view the video which runs about 3 minutes. (Time well spent!)